+ self-proclaimed lethargic chanteuse naz has posted an open letter to ilias lambrou, best known for directing the favourite and trying and failing to get natassia kattan an oscar #justice4natassiakattan
+ no one knew they were dating, film twitter is flipping their shit
+ op suggests reading the letter because it's uncomfortably personal and kinda hilarious
+ WHERE IS MASOCHISM??????
+ lambrou came back to twitter today for the first time in a billion years to let everyone know he has cum stains on his clothes, unfortunately this was before his ex-girlfriend posted demanding child support for their pet roach (????) and lambrou has yet to respond
+ there's a photo of the roach at the source, you've been warned
+ according to the letter they let the roach crawl on their faces which seems unsanitary
+ they may have been engaged? who really cares there was a roach on their faces
+ naz has been on instagram live looking a complete mess for the past two hours, alternating btwn laughing at nothing and staring at her phone in silence
+ no really it's been two hours
+ WHERE IS MASOCHISM??????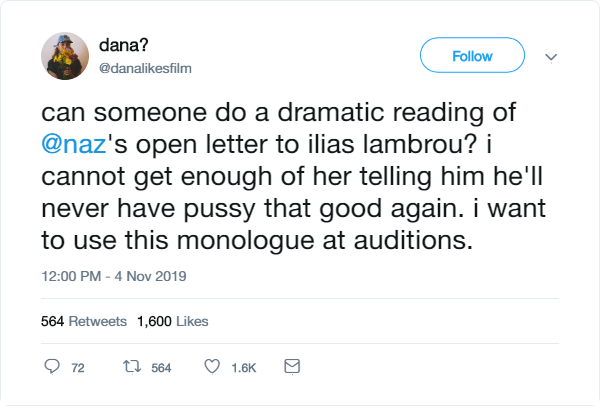 y'all's pop favs don't bring us half the crazy of little miss nazanin esfahani and that is it PERIODT